Is it broo · sheh · tuh or broo · skeh · tuh? So goes the debate, but I'm following Giada's lead and going with the latter so we can move on to more important topics: like how ridiculously delicious this bruschetta with tomatoes and ricotta happens to be, especially considering it's made with just a handful of ingredients. We all need a solid no-recipe recipe that we can pull out as a jaw-dropping appetizer for a party or a simple lunch for friends. And this bruschetta also happens to be a simple dinner that I love to break out when I don't feel like cooking, but still want something incredibly satisfying.
When recipes are this simple, you want every component to be pretty damn near perfect, and this recipe nails the bread layer… then uses the best ricotta we can get our hands on… and gives our tomatoes time to slow roast into garlicky candy-like perfection. So, let's break down each layer: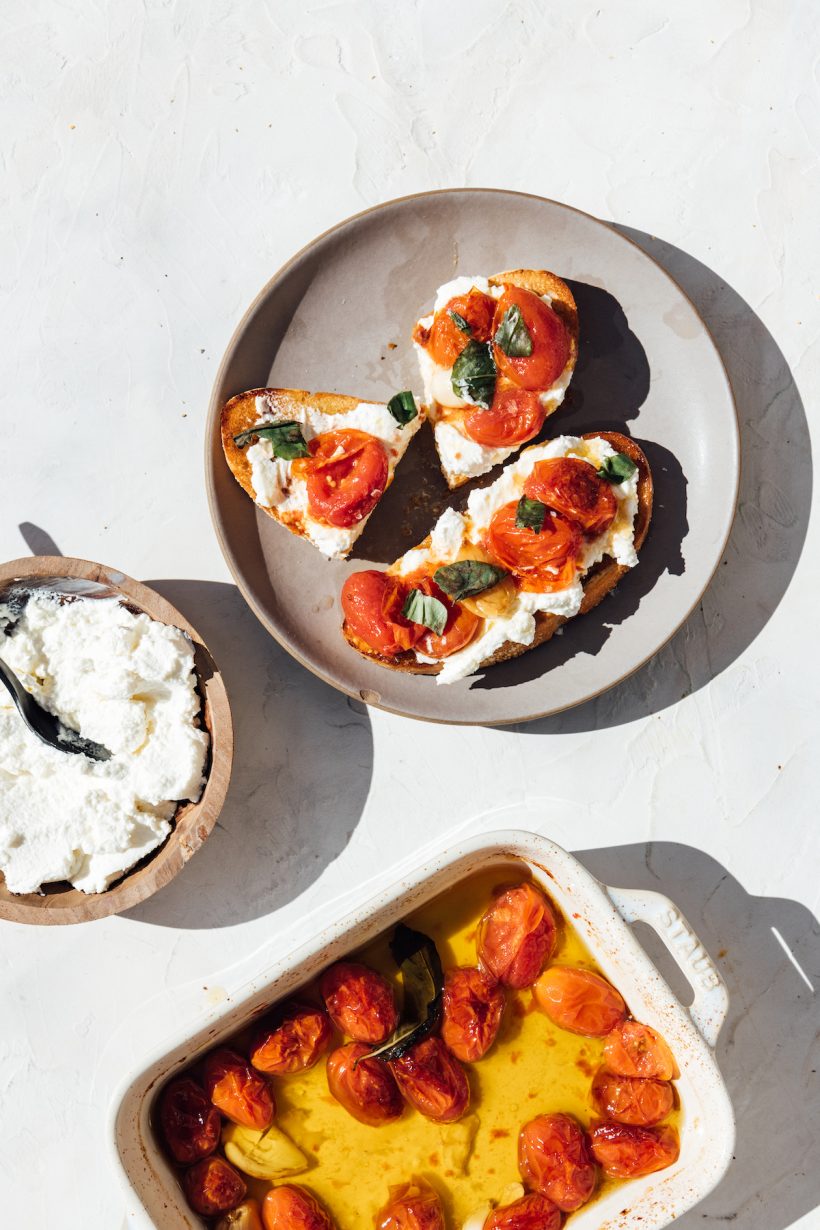 First, grill the bread.
I like to use either a high-quality sourdough or a ciabatta, like I did here. Slice it about 1-inch thick – you don't want it cracker-crispy, but also don't want it to be so thick that it overwhelms the other ingredients.
Drizzle or brush each slice liberally with olive oil, then grill (or place on a grill pan) over high heat until it's golden and crispy and starting to get some grill marks. Trust me: the char you get with this method is beyond worth the extra flavor you get over simply toasting the bread. If you do not have a grill or a grill pan, the next best method is popping it under the broiler in your oven – just be careful because I have burned 1000 pieces of toast doing this.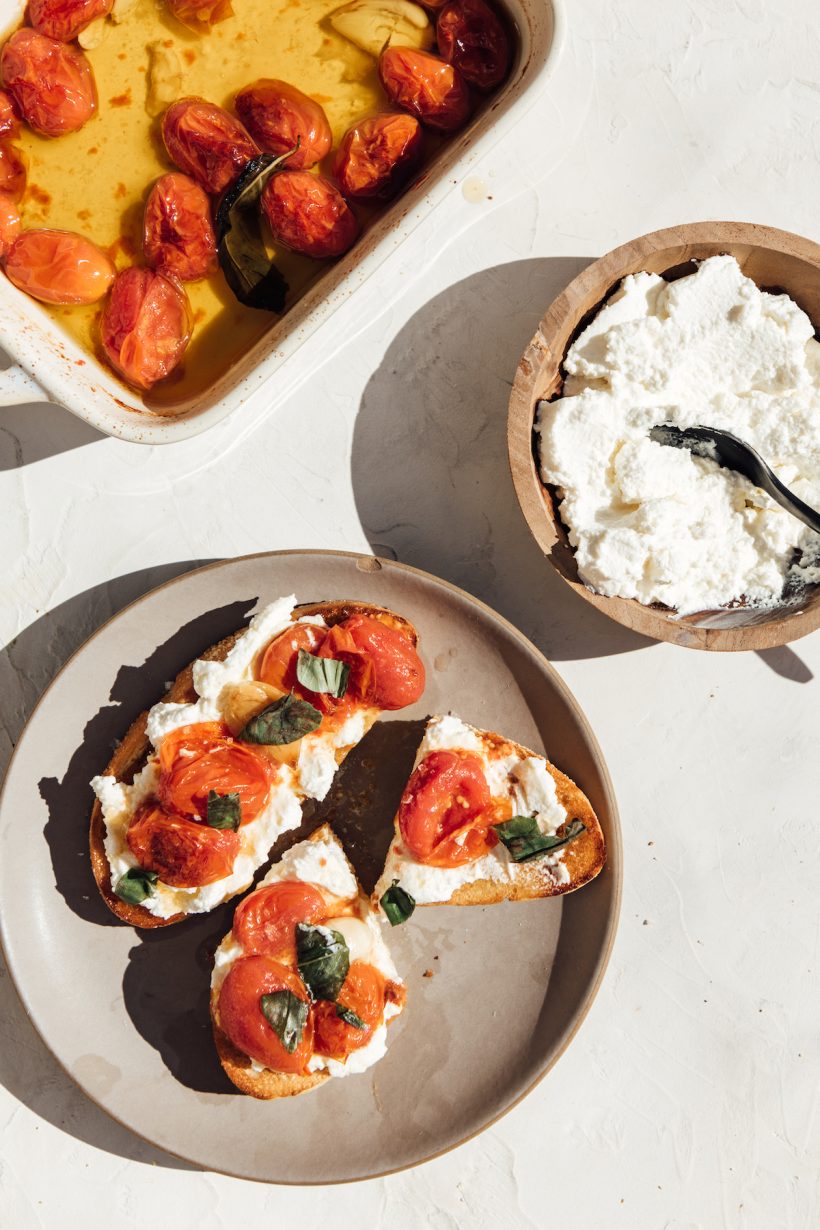 What type of ricotta to use?
Three words: full fat ricotta (also known as whole milk ricotta.) Like I said, this bruschetta with tomatoes is so simple, you want all your ingredients to be really great, so we're looking for a truly creamy, rich ricotta with a thick texture that'll stand up to our slow-roasted tomatoes. Making your own ricotta is one of the easiest and most satisfying weekend projects ever – here's my recipe. However if you're not up for that (word), a high-quality full-fat ricotta from the grocery store is a totally respectable option.
What takes this bruschetta with tomatoes over the top?
It's all in the slow-roasted tomatoes. Here's how to make them:
Toss cherry tomatoes with garlic cloves, a few basil leaves (or thyme, or rosemary), salt, and plenty of olive oil, then roasted low and slow in the oven until they start to burst and get as sweet as candy. These have become a staple I like to have in my fridge at all times – they're so good spread onto toasts or pizza, or on top of grilled salmon. Originally, these were a riff off the recipe in Gjelina's cookbook (they serve their tomato confit on a couple different pizzas in the restaurant), and I've adapted them a bit through the years so that a single batch doesn't use up my entire jar of olive oil. Although these are super easy with hands-on time less than 5 minutes, they require an hour in the oven, so plan ahead.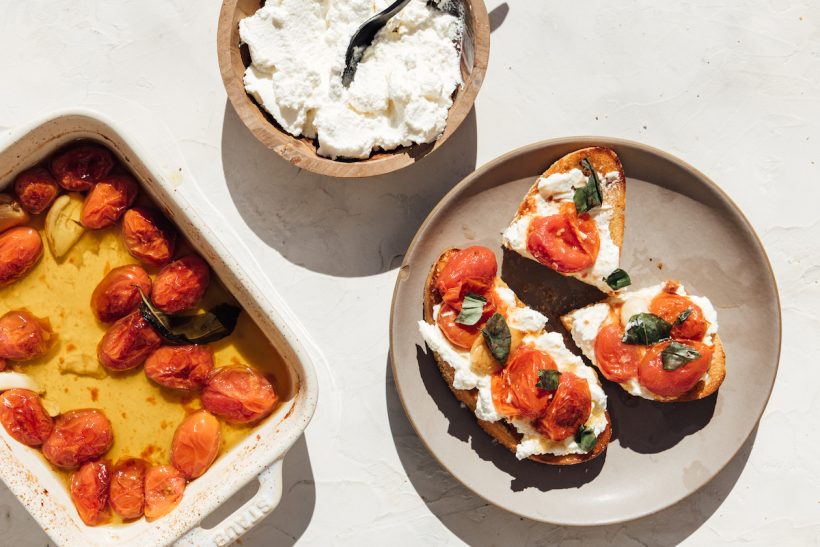 A few other great recipes for using up those slow-roasted tomatoes?
Tuna Niçoise Toast
Creamy Polenta Bowls
Mediterranean Baked Salmon with Tomatoes, Capers, and Olives
Once you've got your components, just top that toast with your ricotta and a hefty scoop of tomatoes, a pinch of salt and a few torn basil leaves, and it's time to meet one of the best flavor combinations ever. Scroll on for the recipe, and if you make it, be sure to tag us on Instagram @camillestyles so we can see and share your version.