As much as we love to see what our favorite foodies do when they want to "wow" their guests, you know what's so interesting? Study the foods they eat when they are at home on a regular basis during the week. These recipes are usually quick with a few ingredients and are a good inspoiler to answer the question, "What should I do for dinner?" every time it hits. To fulfill our interest, our list, My Food for Growth, asks chefs and waiters who like to spill simple recipes that are constantly changing in their home. Next, the Chitra Agrawal of Brooklyn Delhi shares a simple winter roasted soup made from the middle of a busy weekday.
When you think of a restaurant, what do you think of? Ketchup? Seeds? Mayo? Well, it's true and in history it has been on the rise, but in the last few years, an amazing group of designers and marketers have started to get in the way with offerings that make me giddy (they make me jump. And down in front of the shelf-true story!).
The first time I saw Brooklyn Delhi on the shelf at Whole Foods I had to take a break because I couldn't believe it. Achaar with Korma sauce in my grocery store? Since then, I have been a huge fan of the founder, Chitra Agrawal and the work he is doing in creating products that reflect Indian culture through food. The first line of sales in Brooklyn Delhi launched in 2014 focused on Indian cuisine called achaar, sometimes called Indian pickle. When I tell you that my mom can't be without an achar, I'm not kidding. Achaar (pronounced ah-char; which means to ferment in Hindi) is a delicious spice made from fruits and vegetables, spices, and peppers. My mother adds a little to everything she eats to give it spice, bitterness, sweetness, spice, especially, to eat with parathas or any savage that is present at dinner. Achaar is eaten with rice, dal, curry or yoghurt, but what I love about the Brooklyn Delhi tour is highlighting how achaar can blend well with sandwiches, burgers, eggs, mixed dishes, soups, noodles, and cheese and crackers, and so on. more. That's the beauty of food, isn't it? Being able to use a variety of foods that are often associated with one diet, and finding ways to combine with others (just find that it fits right there!).
I was excited to chat with Chitra and showcase one of the recipes that go with it as we enter the autumn season. So, go for a walk to get the recipe for a delicious fried squash soup. Welcome!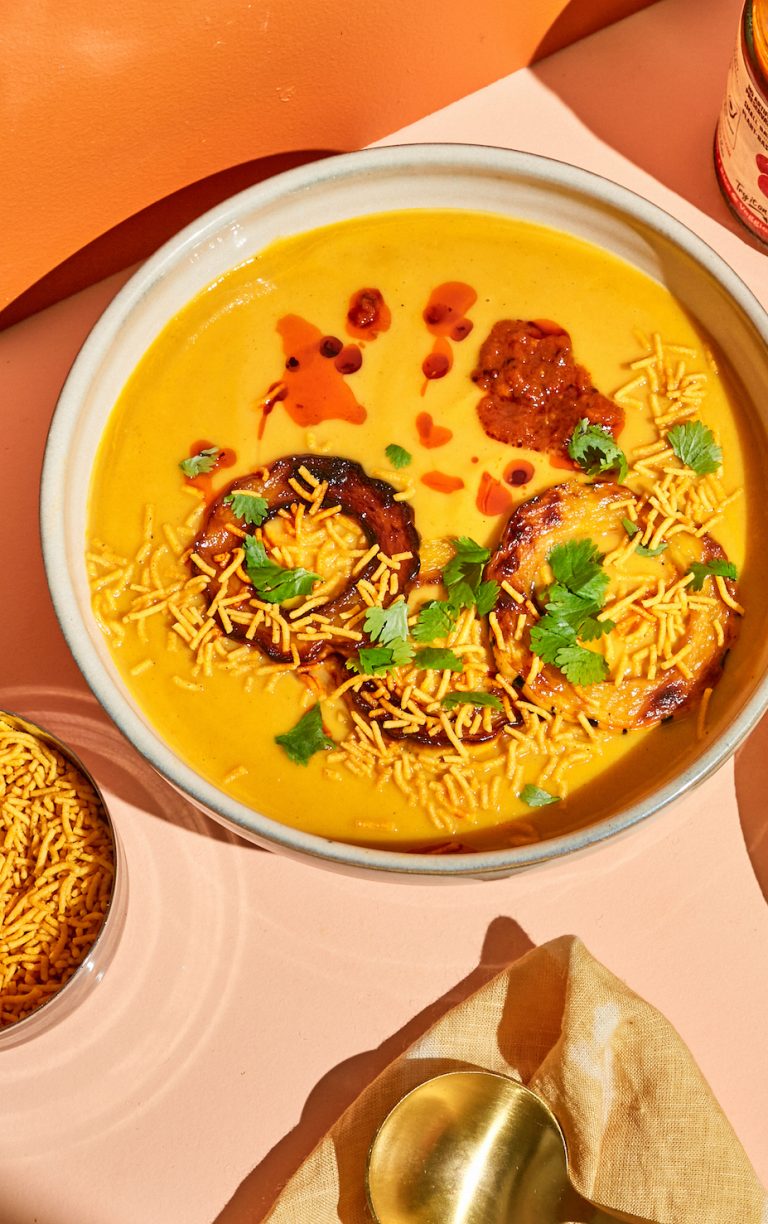 What can you eat, Chitra?
Winter Roasted Squash Soup, especially in autumn and winter.
Yum! How do you make this sauce?
The amazing thing about this secret is that I can make it every week without getting sick because it varies depending on the squash I have (ie butternut, acorn, kabocha, delicata if it is still falling, etc.). I also enjoy in a few ways using my Brooklyn Delhi sauces. One week I will roast squash and mix it with coconut milk and my Cashew Butter Masala sauce and the next with my Coconut Cashew Korma sauce.
Sounds delicious, I love y'alls Cashew Butter Masala. What do you like about this recipe? Why am I going home?
I love this recipe for many reasons. The first is delicious but healthy without much effort. Most of the ingredients are cooked during cooking – like when roasting squash in the oven – so I can easily do a lot of work and do this part of the recipe in advance, making it very fast in a week. Since I already have caramelized onions, garlic, ginger and my seasoning simmer sauces no chopping, fumbling around with spicy jars or waiting with a pot to spice to have a successful week meal. And if you burn the squash in advance, you can pull the last cover in one pot.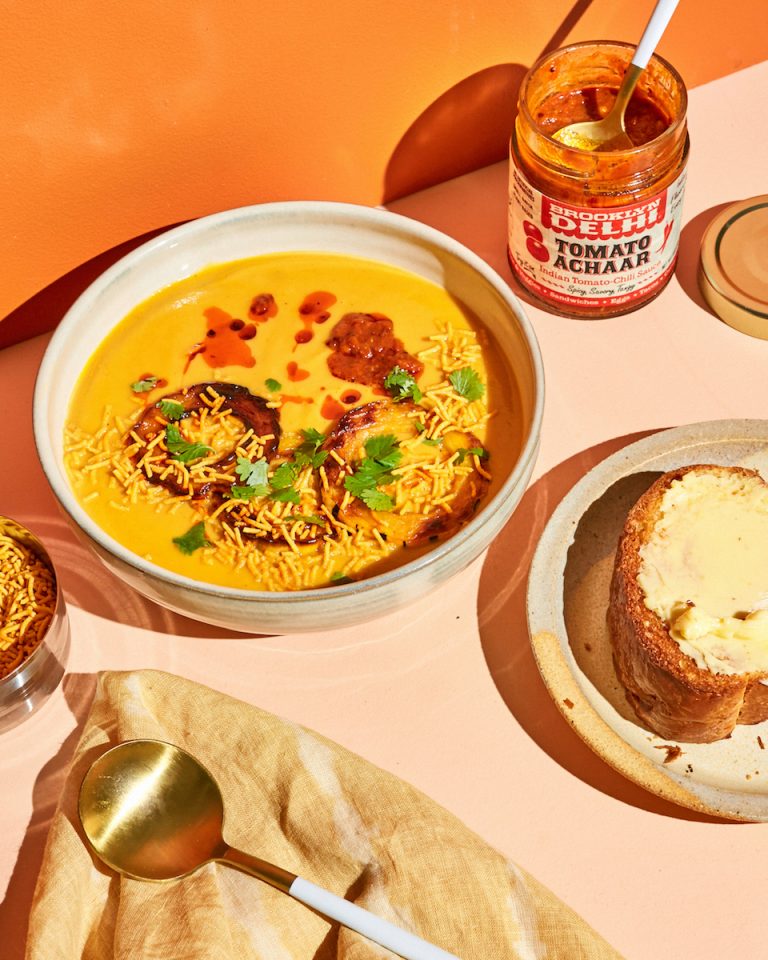 What special tools do we need to have to do this?
This recipe requires a pan, pot and immersion blender, or blender.
What are some of the things that make this special?
Frozen squash is very tasty when baked (especially in season) but I think the addition of Indian spices makes this soup very special and delicious.
What are the things you use if you have nothing or someone who may be gluten-free, and so on?
The recipe is vegan and gluten-free. If I don't have a squash, I've made this recipe with potatoes and sometimes if I have red cooked lentils, I add them to get more protein. I like to serve soup with plain and sweet yogurt and coconut yogurt or sliced ​​pears on top of unsweetened milk.
What kind of cooking do you use in this process that we all need to know?
My simmer sauces are a great secret but I also love this winter squash method – cut it in half, lower the seeds and roast the top. When the squash is cooked, you just remove it from the skin and if the skin is thin enough, I just use the whole squash. Roast the squash until you see caramelization because this makes the soup deeper and sweeter. This method is very effective in removing and cutting the squash into cubes. The biggest time saver is burning the squash the day before.
What ingredients do you have in the kitchen for cooking like this and more?
Cold squash or potatoes, Brooklyn Delhi simmer sauces, coconut milk, topping topping as sev (crispy Indian chickpea flour strands), or fried seeds (peppermint or sunflower). I like to add sauce and plain yogurt and chopped cilantro too. I love sour dunking bread in this soup.
Thanks for sharing This secret, anything else you would like to share?
The secret is too little for my kids so I give the soup as it does – a simple meal that kids love is always a success. To increase the temperature for myself, I add my Tomato or Roasted Garlic Achaar.