Everyone needs a strong holiday salad cover in their recipes – which your family and friends are asking you to bring to Thanksgiving or a Christmas dinner. For me, this is it. An old-fashioned salad of pears, gorgonzola, radicchio, pomegranate, candied nuts, and red onions, which are also the most colorful and I have always called it "Pre-Chopped Food Salad." (She's never heard of such a celebration before, amiright?)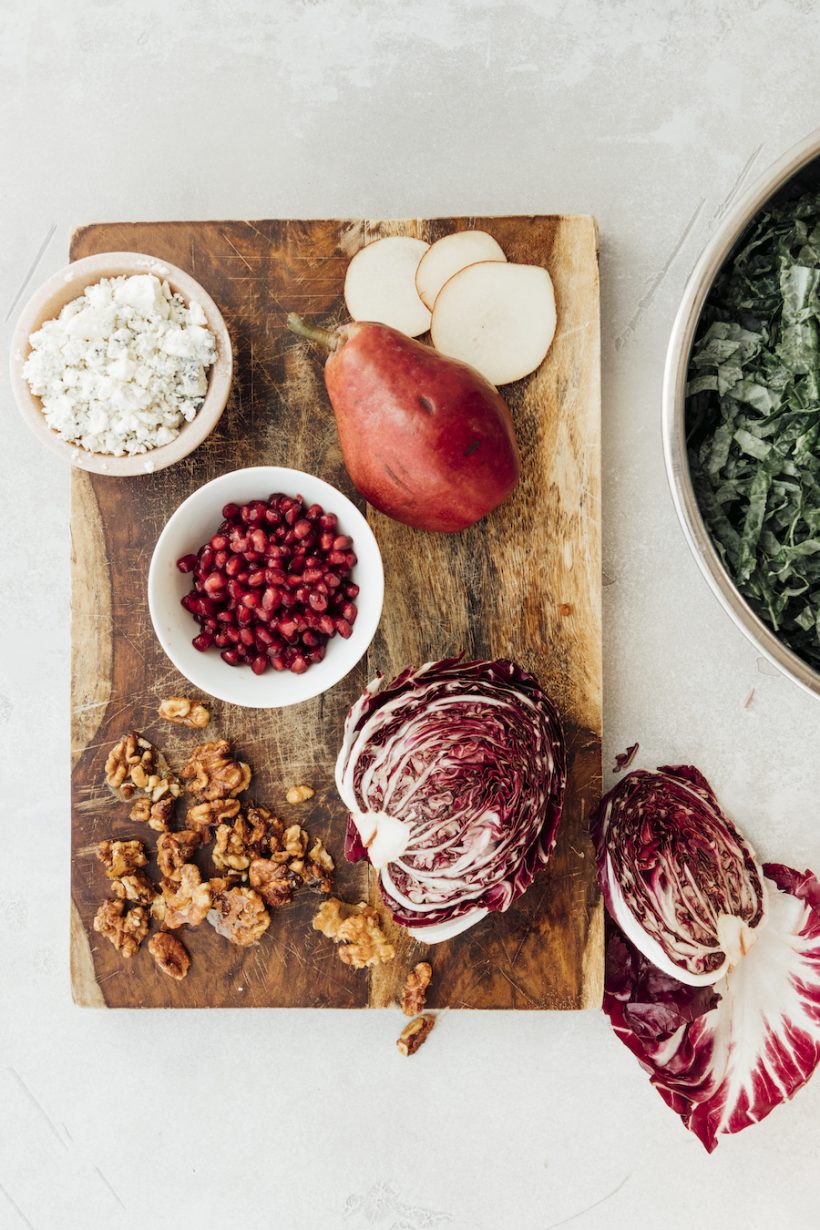 The holiday party tends to rely on large, bold spices: short decorated ribs, rosemary bacon, lean pasta… so I love a salad that can keep itself against other well-known dishes. A strong, super-fashioned past is the answer, and it gets bonuses for its ability to carry, fully clothed, for hours on end. Instead, it is best to have time to sprinkle all the ingredients, which means you can prepare this salad in advance, put it in the fridge, and forget about it. So, let's talk about the ingredients for this salad and the changes that make it so special and how you can do it for your upcoming holiday meetings.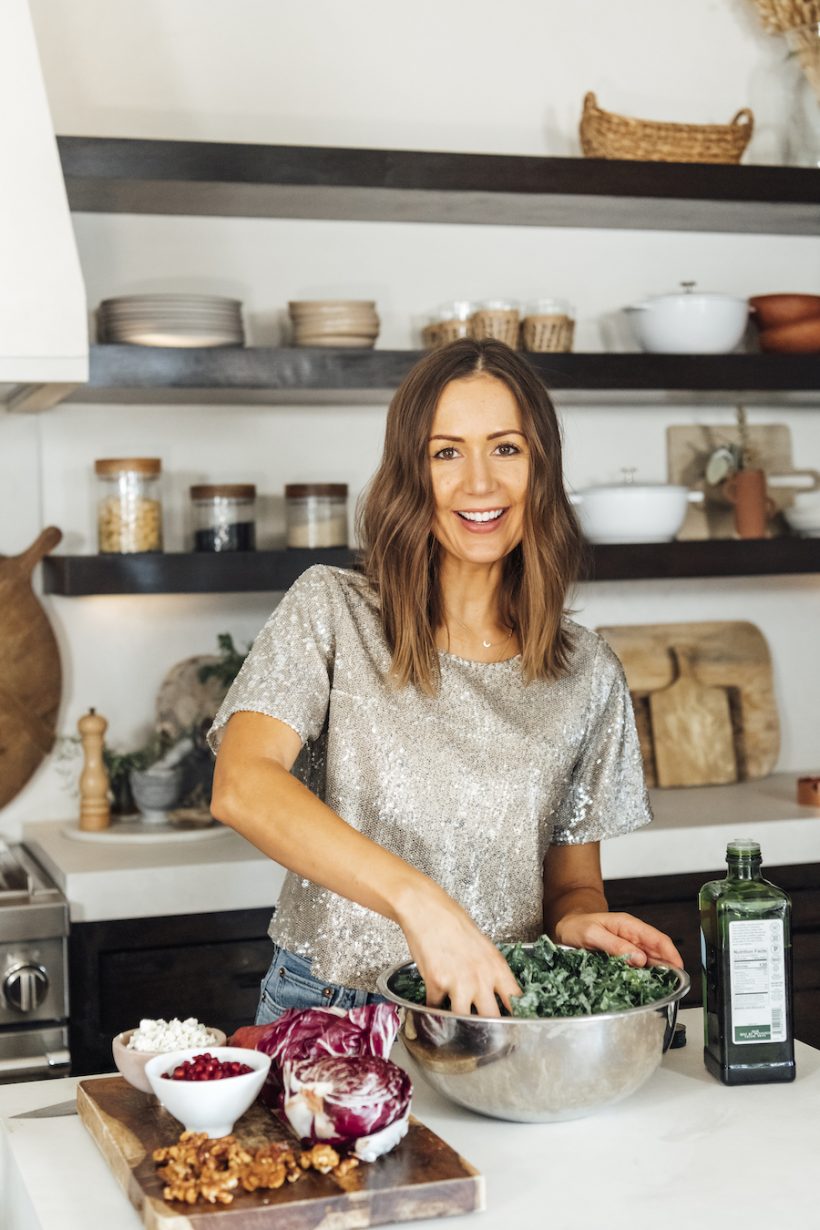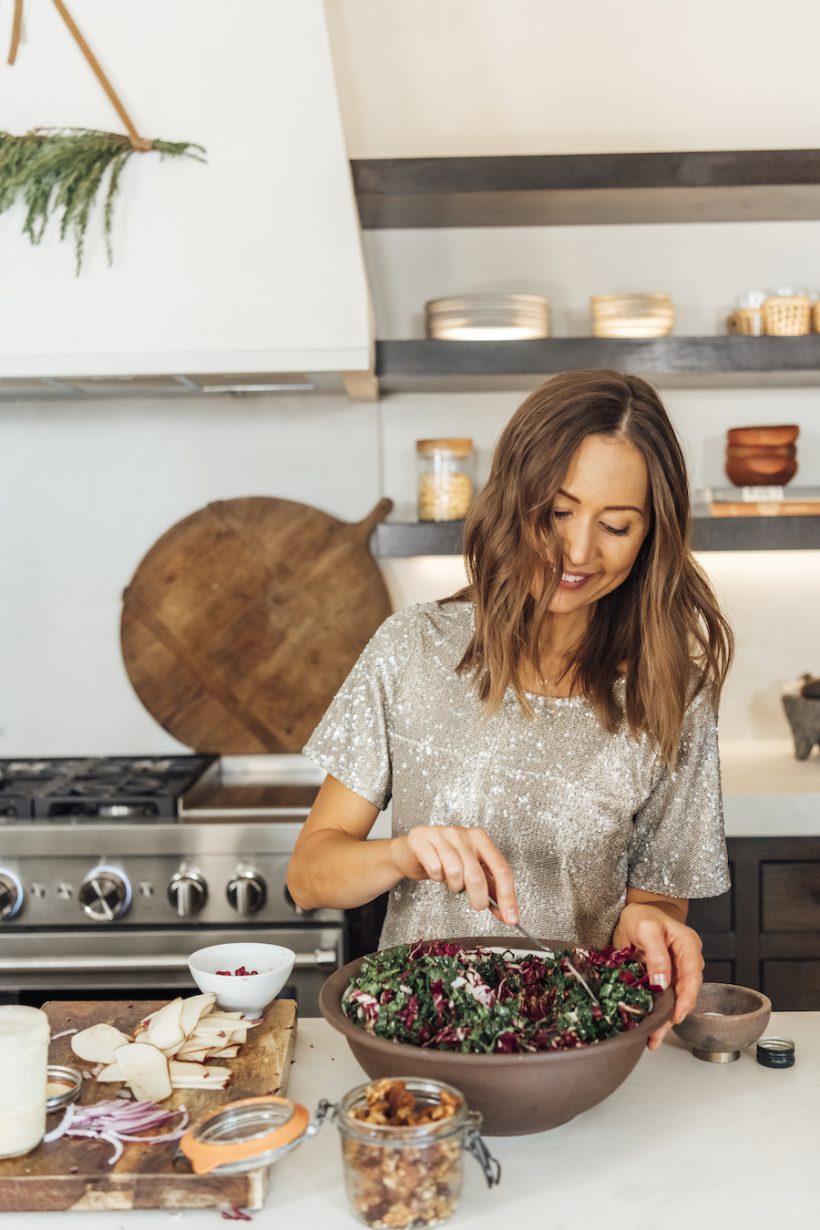 What kind of old model should I use?
In the case of the former, you have a choice. Classic curly past, Lacinato (or Tuscan or dinosaur) past, Red Russian, or other types of heritage are all delicious, but this salad, I like to mix 50/50 of curly paste with Lacinato past. I love the variety of green and the variety that this mix offers, plus when you throw radicchio ribbons, it is a vegetable dance party.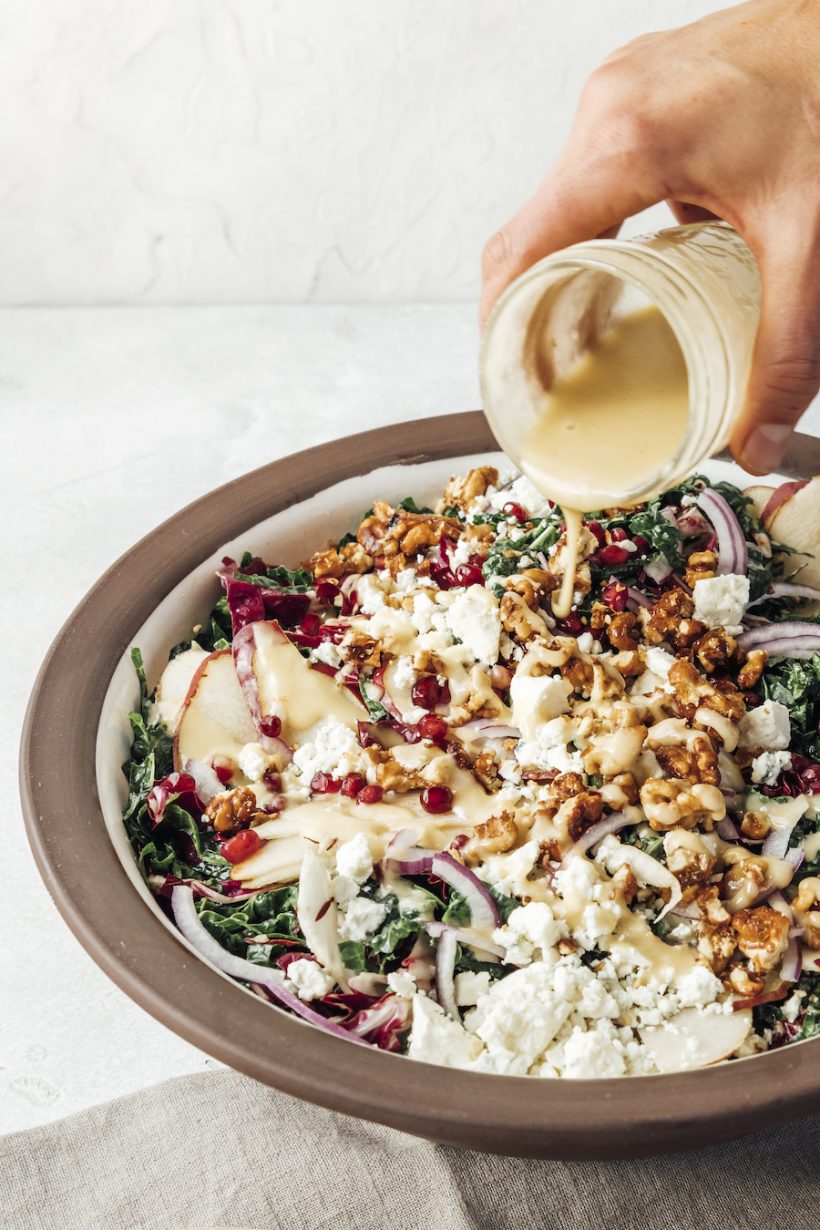 How can I already make a good impression?
Well folks, I've said it before and I say it: if you don't already brush it, it's time. But before you can do that, you need to peel the stalks off the stalks, stack the leaves and cut them into ribbons, then place them in a bowl and add some of the extra virgin olive oil. Use both hands to massage vigorously for one minute until it has shrunk to a fine, green silk. Now you are ready for all the beautiful decorations.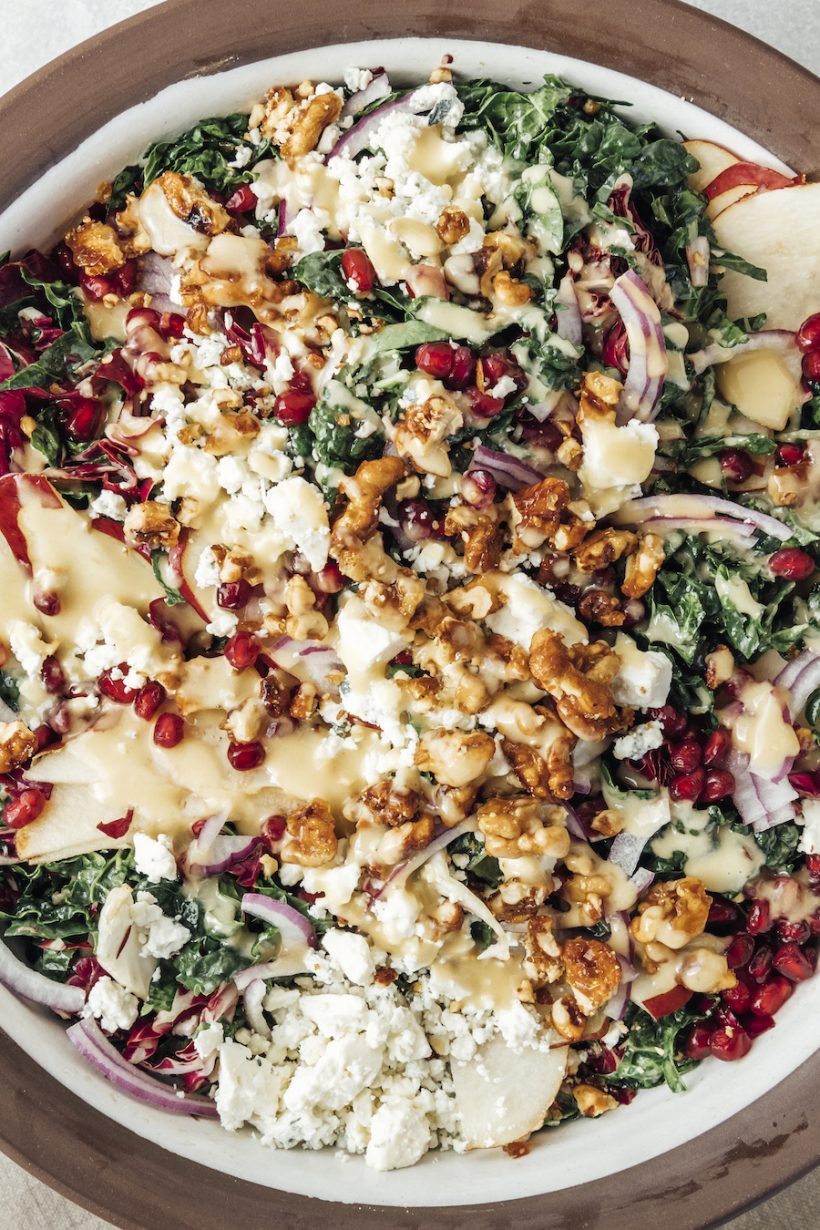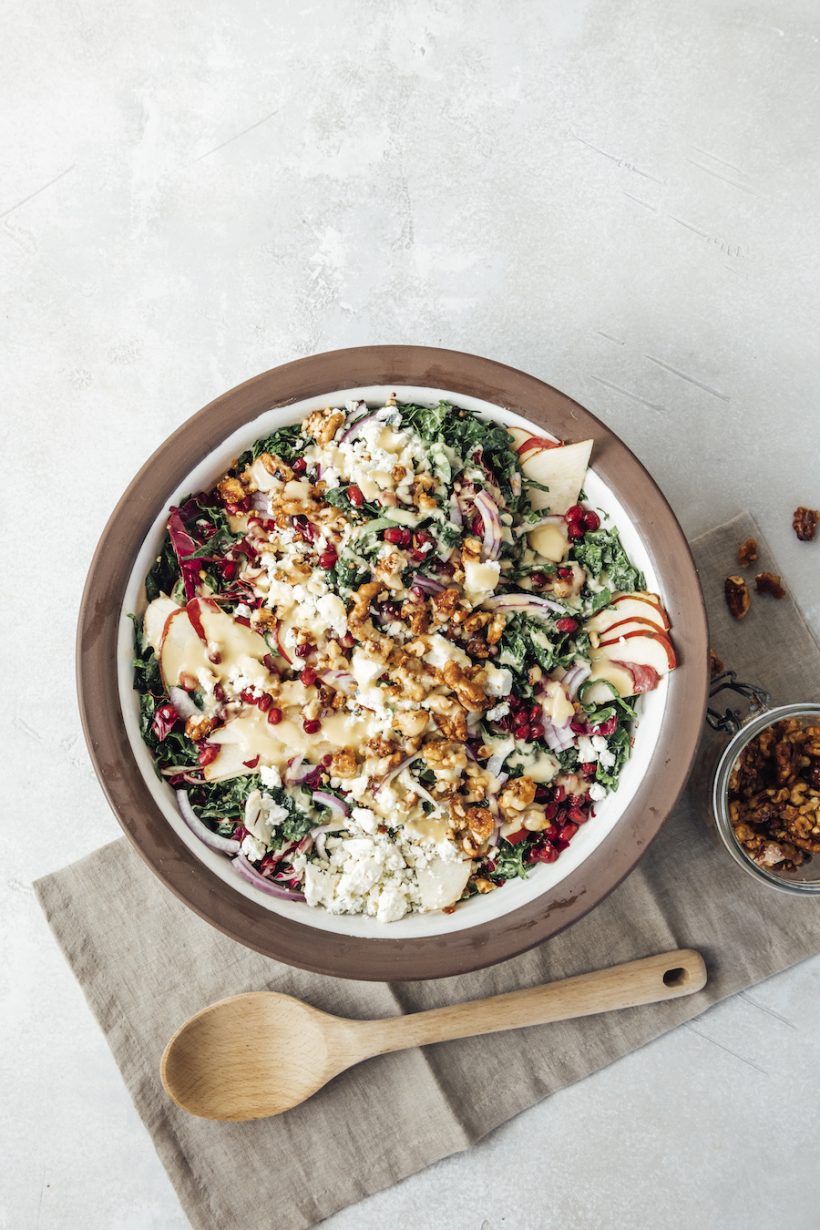 Garnish for a delicious salad
For this salad, display is essential. While I love using simple ingredients throughout the year, the holidays are a time to put extra care into how you style and bring them together. This dish is really fun for energy, and is a simple way to bring in a Christmas-y color palette (no red and green sprinkles needed!) Here are some additional ingredients that make this salad stand out:
Massaged kale. See above.
Radish. Yes it is bitter, but when combined with the weight (like the oil in this dress and the sweet gorgonzola) radicchio is very appealing.
Peyala. I love old cut salads and pears all year round, but this combo is very comforting in the winter months. Now is the time to try any of the beautiful pearls that are in season. Just make sure it is ripe but firm enough to stand up when you cut it.
Gorgonzola. Any blue cheese will work well here, but in this way, I like to buy crackers that will fit when you give this salad. There is nothing like the high quality of blue cheese and pears at Christmas time.
Makangaza. Sure, I use them here mainly because of their amazing red color, but they also give this salad a delicious taste and a delicious "bite". You can buy wholesale pomegranates and use this method for seed removal or feel free to take a lazy method (like me) and buy pomegranates that were already planted when the work was done for you.
Red Onions. They have a beautiful fist and the most beautiful types of gemstones. I like to use my mandoline to make the layers very thin, with bonus points soaked in cold water for 30 minutes to reduce flavor.
Candied Nuts. Have fun, because at last I am sharing a recipe for candied nuts that I have loved for many years. It's time! Just form two groups, because you will need more food.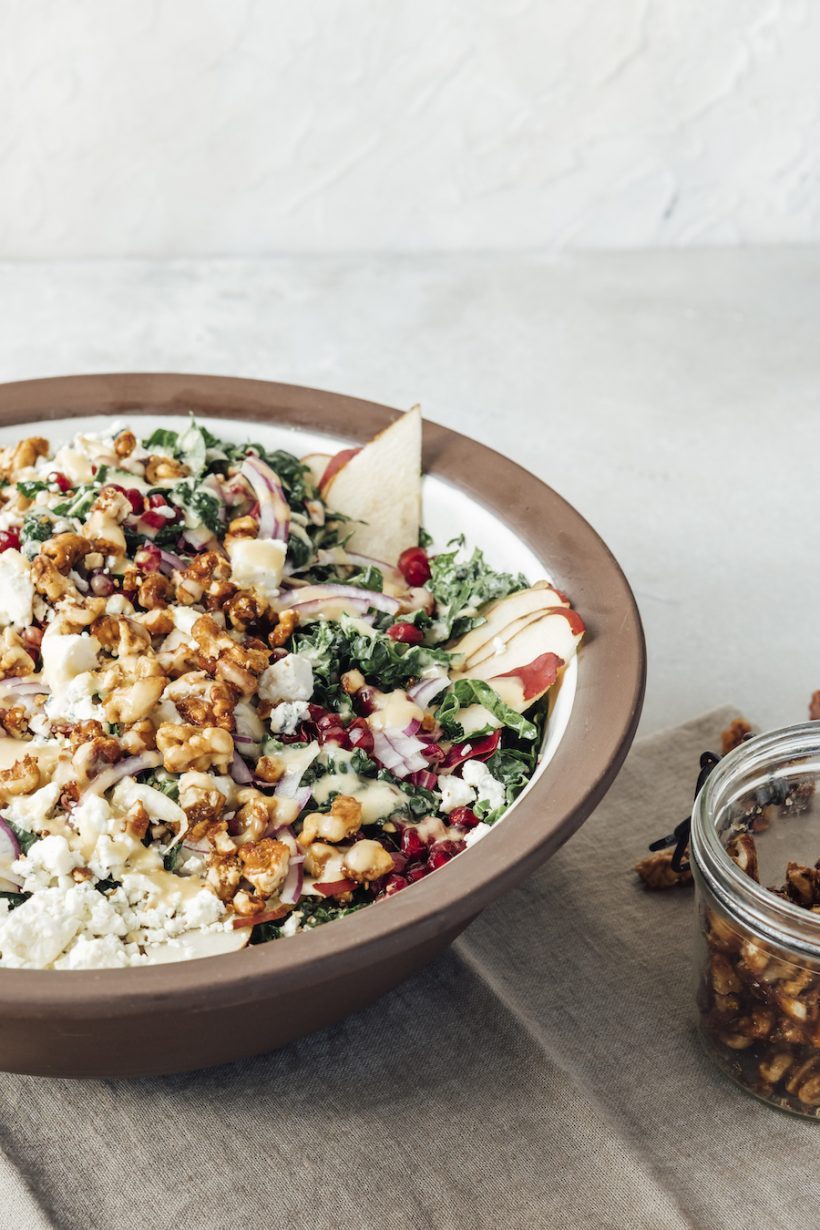 I like mustard-shallot vinaigrette
Just as you would want an old-fashioned salad dressing in your repertoire, you also need a strong mustard vinaigrette that you can keep in the fridge for all your salad needs. This is what I always turn to. I have changed and changed several times over the years, but the ingredients are the same: dijon mustard, garlic, vinegar, onion or shallot, honey, and olive oil. They are sweet, acidic, sweet, and when combined together, they lightly coat any old leaf as a salad.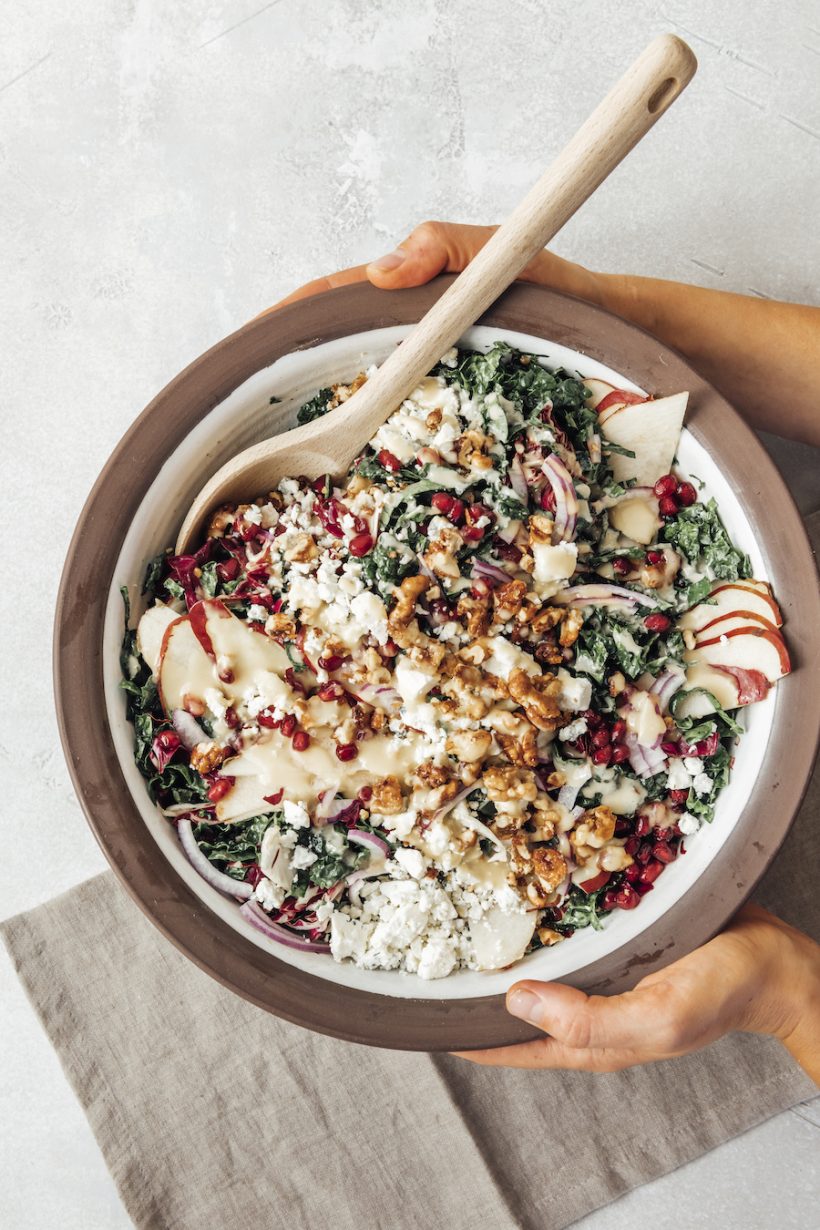 The precious salad of the holiday is beautiful, healthy, and satisfying — and we have never talked about the health benefits that a good beauty brings to the table, but we will save it one day. In the meantime, check out the recipes, and post us on Instagram @camillestyles if you try this salad!