Roasted vegetables aren't usually something to come running for. Don't get me wrong, once you know how to properly roast vegetables, the technique is a game changer. A little time spent in the oven totally transforms veggies. They get those perfect crispy edges and crave-worthy caramelized bits. But after a long day at work or keeping busy, I'm usually craving a big bowl of pasta or something rich and creamy like my mom's palak paneer. I do, however, know that eating more vegetables is always a good idea and that for me, it's about finding ways to make them exciting. And during this full-of-root-vegetables time of year, I've been craving all the bright and fresh flavors. In getting creative with ingredients I always have on hand, I've rounded up the best tips for roasted root vegetables that'll upgrade any meal.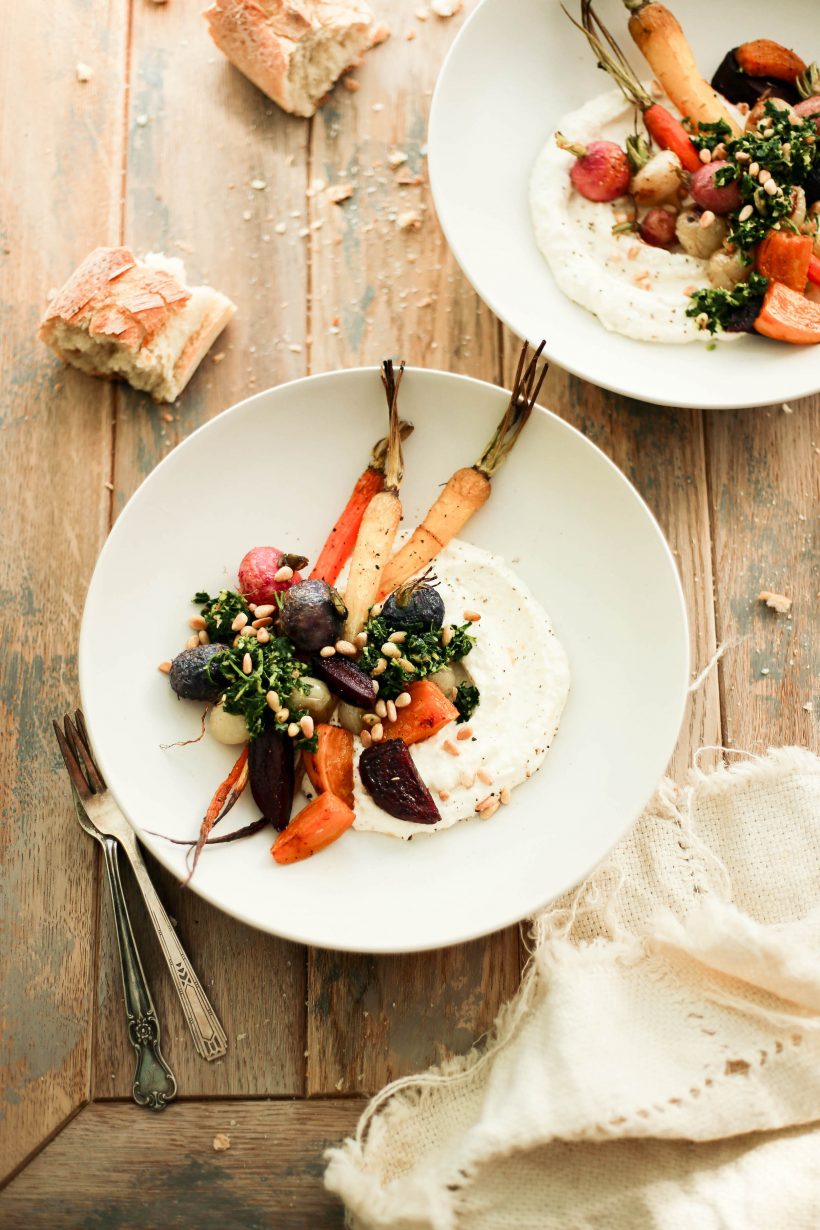 How Do I Properly Roast Vegetables?
It seems simpler than it should be, but I've asked myself these questions many times. Luckily, I've made my way through many sheet trays of vegetables and don't even have to think twice about it now. To get those caramelized and crispy vegetables, here's what I do.
First, make sure your vegetables are at room temperature. Trust me, this little tip has made a difference in roasting vegetables for me. Yes you can roast veggies cold from the fridge, but letting them come to room temperature does help achieve that crispness.
Coat generously in olive oil, and double down on the seasonings. I used to be too light with the salt, but it makes a difference to salt your vegetables properly.
You need space. This might require two sheet trays. Trust me, it's worth it. You want to space your vegetables out so that instead of steaming each other, they can roast properly. So give them enough space on the sheet tray instead of crowding them. It's also important to cut everything about the same size or thickness if you want all of your veggies to finish cooking at the same time. If not, have larger pieces together on one sheet tray, and smaller pieces on another so you can remove the smaller pieces first.
High heat. Always. I roast at 425 degrees F, and will sometimes push a little higher. For most vegetables that I've chopped, 425 for 15-20 minutes on each side yields sweet, roasted pieces that are delicious. Keep an eye out for your vegetables. If it looks like they're roasting too fast, just remove sooner. If they're not golden enough, cook for longer.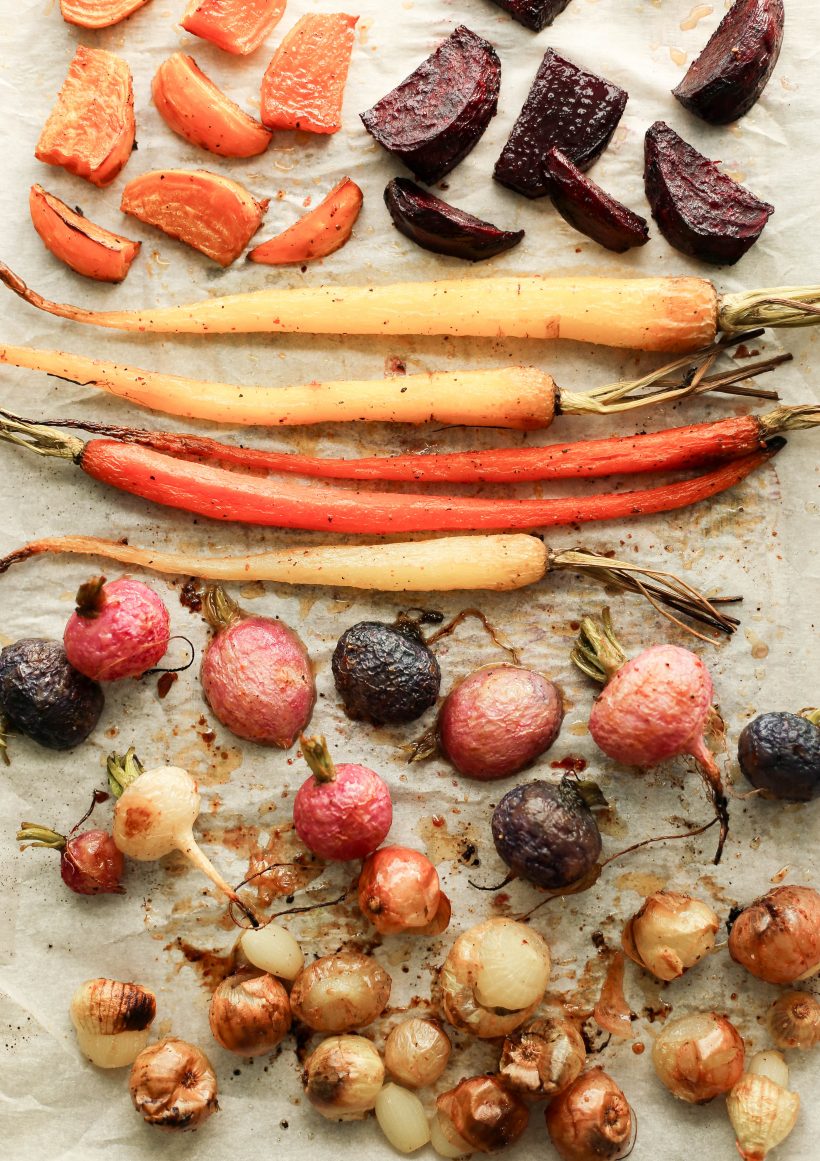 Reach for the Fresh Herbs: Gremolata vs. Chimichurri
When I have a pile of root vegetables sitting on my counter, my go-to method is roasting. Especially during winter— with hearty veggies on hand, roasted vegetables are a great side dish. But how do we elevate them from side to side? By pairing them with special sauces. My first choice? A zesty gremolata. Gremolata is made with three simple ingredients: lemon zest, parsley, and garlic. It is fairly similar to a chimichurri, which includes the previous ingredients as well as olive oil and vinegar. While you could also use a chimichurri on this dish (like this roasted cauliflower), because I already have the creamy feta on the bottom, I wanted to highlight the freshness, rather than add extra liquid on top. Plus, the feta already adds a bit of tang to the recipe, so I didn't want to add extra vinegar on top. The best part? No food processor necessary! Gremolata just requires some fine chopping and zesting. Voila!
Creamy Feta for the Win
I've been a long-time fan of a creamy feta sauce. The cheese is protein-packed and has this great salty tang that pairs extremely well with the caramelized sweetness of root vegetables. To get this feta extra creamy, I toss it into a food processor with a little sour cream. You could also use greek yogurt if you wanted, but I prefer the milder flavor of sour cream. You might be thinking, two sauces? Is that truly necessary? Yes. Leaning in on complementary sauces takes your vegetables from side dish to the star of your meal. The bright and tangy gremolata is lightly mellowed out by the creamy feta sauce, and it all melds perfectly together with the vegetables.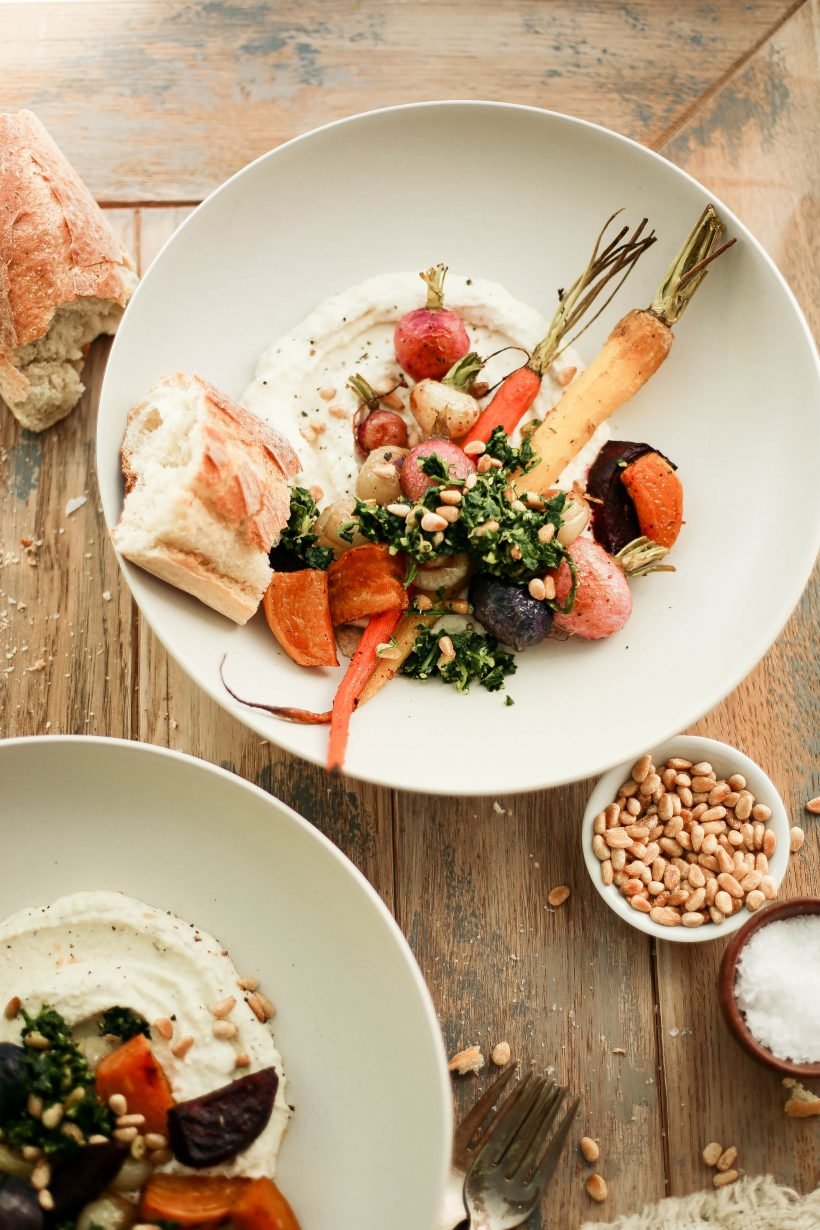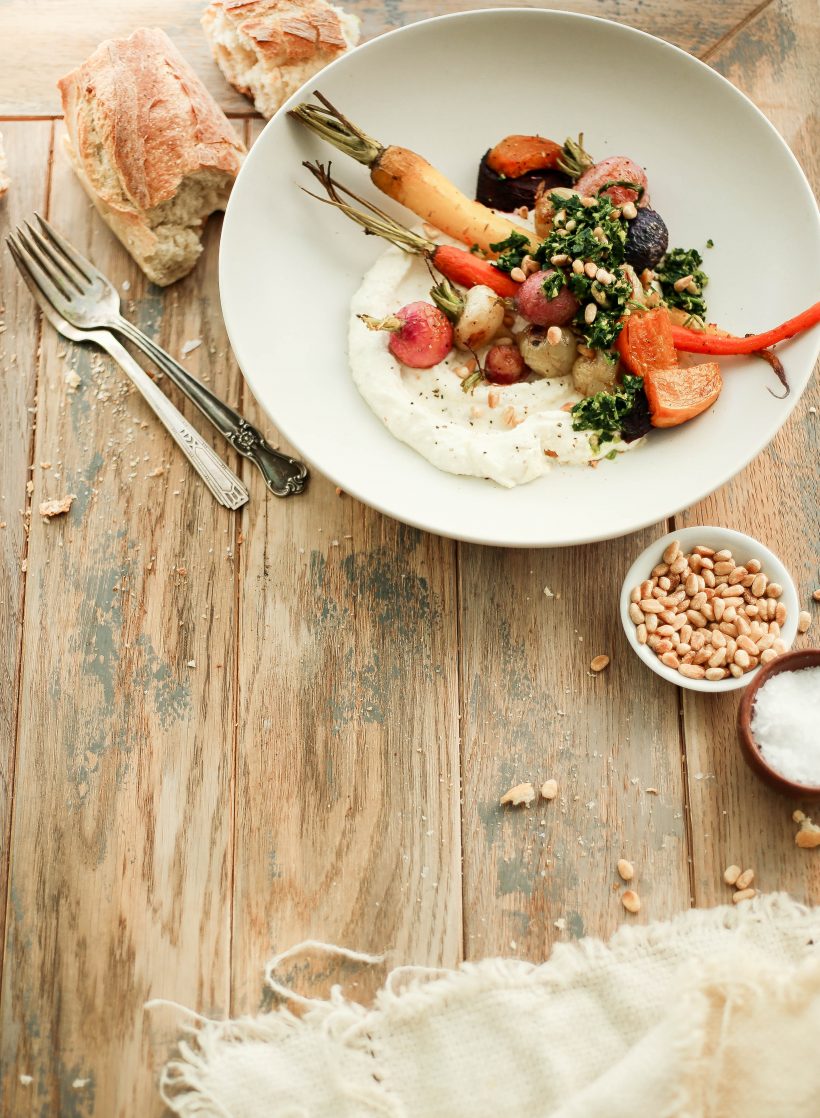 Set the Scene
My last tip for making vegetables stand alone as a main dish? Dress it all up! Maybe it's the food stylist in me, but we all eat with our eyes first. So to make vegetables feel special and plate them up in a way that feels nice. Group vegetables over the dolloped feta sauce. Toasted pine nuts add some extra heft and crunch as a garnish. And the greenery from the gremolata helps tie it all together. You can drizzle with a little finishing olive oil, and serve with crusty bread to scoop up any extra sauce. Trust me, this is not just another plate of vegetables for dinner.