July 10 2023 – Mark Zuckerberg, the CEO of Meta Platforms'. Twitter competitor, announced on Monday that Threads had overtaken ChatGPT as the fastest-growing online platform to reach the milestone after only five days of operation.
Fastest Growing Consumer Application in History
The app reached 100 million users significantly quicker than ChatGPT ,owned by OpenAI ,which ,according to a UBS research ,became the fastest-growing consumer app in history in January ,around two months after its release.
According to the company's latest public statement before Musk's acquisition, as of July of last year ,Twitter had roughly 240 million monetizable daily active users ,however evidence from web analytics companies suggests usage has decreased since then.
Who all did Threads beat?
According to a UBS analysis ,Threads reached 100 million users more quickly than CHatGPT ,which had become the Fastest-Growing app in history in January just two months after its release.
It took China's Tik Tok around 9 months to achieve that number, making it another big phenomenon.
What about the Instagram parent of Threads? The platform needed more than two years to get there ,not just two months.
According to Business of Apps, it took Google+ 1.2 years to attain that accomplishment.
He admitted that politics and controversial news will eventually appear on Threads, which would be difficult for the app that bills itself as the "friendly" alternative for online public dialogue.
The price of Meta Shares Increased 1.2% on Monday and has Increased by more than 140% this year.
How has Twitter Responded To its Competition?
In a letter to Facebook CEO Mark Zuckerberg ,Twitter's attorney Alex Spiro threatened to Sue Meta Platforms (META.O) over its new Threads platform.
In order to compete with Elon Musk's Twitter ,Meta ,which debuted Threads on Wednesday and has had more than 30 million sign-ups ,plans to harness Instagram's enormous user base.
In his letter ,Spiro accused Meta of enlisting former Twitter employees who "had and continue to have access to Twitter's trade secrets and other highly confidential information ," according to the news site Semafor.
Spiro stated in the letter that Twitter "intends to strictly enforce its Intellectual Property rights" and demanded that Meta take Immediate action to stop exploiting any Twitter trade Secrets or other highly private information.
No one on the Threads technical team used to work for Twitter; this is just untrue, according to Meta spokesman Andy Stone in a thread.
Neither top staff people who joined Meta nor any former workers working on Threads are known, claims a former senior Twitter employee who talked to Reuters.
In response to a tweet highlighting the news, Musk, the owner of Twitter ,wrote ,"Competition is fine, cheating is not."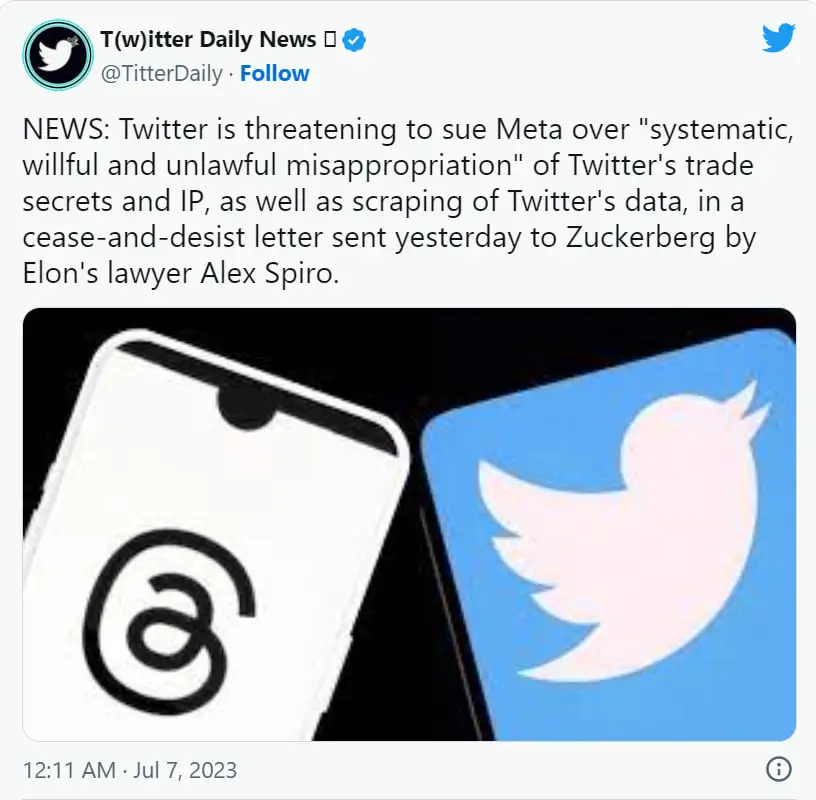 Meta owns Instagram as well as Facebook.
Since Musk took over the social media platform in October, Twitter has faced competition from platforms like Mastodon and Bluesky, among others. Threads' user interface resembles the microblogging service, though.
However, Threads does not enable keyword searches or direct messaging.
In order to properly prosecute a claim against Meta for trade secret theft ,Twitter would need a lot more material than what is offered in the letter, according to intellectual property law specialists like Stanford law professor Mark Lemley.
"The mere hiring of former Twitter employees (who Twitter itself laid off or drove away) and the fact that Facebook created a somewhat similar site is unlikely to support a trade secrets claim," he said.
Threads breaking the records, but thread having many issue
On Thursday, July 6, 2023, the so-called Twitter competitor app, Threads, officially became live. The Instagram-born programme is a text-based social networking site where users may publish almost 500-character long written messages, videos, and other material, as well as like, comment, and share them—much like Twitter.
Since it's attached to Instagram, people can log in directly from their Insta account, keep the same username, and transfer the follow list from Instagram.
According to sources ,Threads has gathered over 30 million sign-ups in less than a day since its inception. This was undoubtedly aided by the unpredictable behavior of the Twitter app ever since Elon Musk bought it and the escalating hostility of people there.
However ,Threads is not without its share of issues; in this article ,we examine a few of them.
However ,Threads is not without its share of Issues ,in this article ,we examine a few of them.
1. Can't Delete Account Data With Deleting Instagram Account
According to sources, you cannot erase the data associated with your Threads account without also canceling your Instagram account. According to the platform's FAQ page, "You may always remove specific posts. You must delete your Instagram account in order to erase your Threads profile and data.
It seems to make sense, but can raise privacy concerns for us, as one's Threads account is directly linked with their Instagram account, allowing users to effortlessly log in, transfer their profile information, following list, and more.
Therefore, while you may remove certain posts and even completely cancel your Thread account ,you are unable to remove your account data without having an impact on your Instagram account.
2. Collects More Personal Information Than Twitter
Just from Instagram itself, Meta's Threads collect the following information:
Instagram login information
Instagram account ID
Instagram name and username
Instagram profile information such as your profile picture, bio and links
Instagram followers
Accounts you follow on Instagram
Your age on Instagram
Your Instagram account status relating to intellectual property violations and instances of going against Instagram's Community Guidelines.
All of the user data that Threads gathers is listed in the App Privacy section of the app's store page. The worrying aspect of this ,however ,is that Threads appears to be collecting user data from 25 other categories, in addition to sensitive and financial information, making the list appear to be wider than even Twitter.
3. Instagram/FB Being Linked
A lot of individuals have also expressed their displeasure with the demand for an Instagram or IG account for a Threads account.
Some people feel it would be Impossible to maintain a difference between their Private and Public online personas if their Threads account is Linked to their IG account because they do not Want their Actual relationships and online ones to become Inextricably linked.
4. No Website
The fact that the app is only Accessible for Android and iOS devices and does not have a website version has drawn criticism from some Users. All Social media sites currently offer both a Website and applications for desktop users to manage their accounts.
However, there is no functional website version of Threads where users may access the platform or their accounts.
5. App Keeps Crashing
Some users have also complained that the app keeps crashing ,although it might Partly be because of the high volume of traffic it is Seeing shortly after debut, which makes it difficult to Load.
conclusion 
Instagram Threads is a messaging app developed by Facebook that offers a focused and private communication experience for close friends and selected contacts. With its emphasis on sharing moments ,stories ,& updates within a smaller network ,Threads aims to enhance personal connections and facilitate more intimate conversations. The app provides features like automatic status updates ,quick photo and video sharing, and the ability to create custom lists for easier access to favorite contacts. These features contribute to a more streamlined and efficient messaging experience.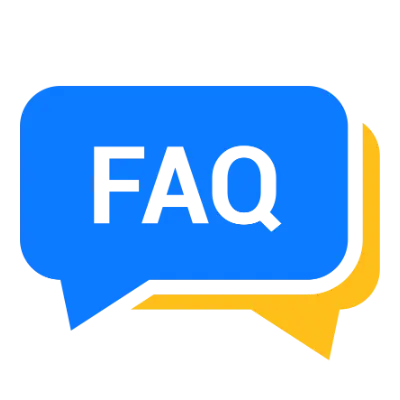 Ques: What are Threads? 
Ans: Threads is a messaging app launched by Instagram that focuses on private and intimate communication with close friends. It offers a dedicated space for one-on-one conversations, content sharing, and status updates.
Ques: How is Threads different from Instagram? 
Ans: Threads is an extension of Instagram, offering a more focused and private experience. It emphasizes close friend groups ,personalized content sharing, and real-time updates ,providing a more intimate social networking experience compared to the broader reach of Instagram.
Ques: Can I use Threads without an Instagram account? 
Ans: No, Threads requires an Instagram account for login and integration. It leverages Instagram's Existing user base and infrastructure to provide a Seamless experience for users.
Ques: Can I use Threads to communicate with people who are not on my close friends list? 
Ans: Threads is designed for communication with your close friends, primarily those on your close friends list on Instagram. It emphasizes private conversations within a trusted circle, limiting communication outside of that group.
Ques: Is Threads available for both iOS and Android devices? 
Ans: Yes ,Threads is Available for both iOS and Android Devices. You may Download it From the Google Play Store (for Android) or the App Store (for iOS).
Ques: Does using Threads affect my privacy on Instagram? 
Ans: Threads has Customizable Privacy settings that allow you to control who can send you messages and who can see your status updates. It Prioritizes Privacy and Provides users with control over their Sharing and communication preferences.
Ques: What happens If I delete my Threads Accounts?
Ans: According to Meta's 'Supplemental Privacy Policy' users who delete their Threads profile at any time will also deactivate their Instagram account since both the Threads and your Instagram account is interlinked.